Article written by Adam Shemesh
The players here don't have the biggest names or contracts, and they definitely don't sell the most jerseys. They don't have the faces for the big screen or the voices for sound bytes. When the crowd chants MVP for the Kris Bryants of the world after a 1-4 outing, these players are packing their stuff with their heads down and their minds focused after quietly going 3-4. These are the players who get it done, but don't get the recognition. They probably won't break the discussion for MVP or CY Young, but at the end of the day, numbers speak louder than names.
DH- Edwin Encarnacion, Blue Jays  39 HR, 115 RBI, .265 AVG
COMPARISON- Miguel Cabrera, Tigers  32 HR, 89 RBI,  .309 AVG
There is only one player that has cracked the top 10 home run and RBI leaderboards every year since 2012. That man is named Edwin Encarnacion, and he plays first base for the Toronto Blue Jays. I take it that many of you have heard of Eddie E, but only a few of our readers know that he has been a top 5 offensive talent in our generation, thanks to the fact that he is largely shadowed by teammates Jose Bautista and Josh Donaldson (But we'll get to him later). Since 2012, Mike Trout- widely regarded as the game's best- has 157 homers to Encarnacion's 185, and 458 RBI to Edwin's 523. Also, he walks more than 10% of the time. Encarnacion is an under-the-radar MVP pick for 2016.
FIRST BASE- Joey Votto, Reds 24 HR, 100 BB, .434 On Base %
COMPARISON- Anthony Rizzo, Cubs 29 HR, 69 BB, .386 On Base %
Votto is being overshadowed thanks to the fact that he plays for the Reds, arguably the most talent-devoid franchise in the bigs. However, he has quietly had an historical second half. Votto has posted a mind-blowing .421 average in 54 games after the break, homering 10 times while driving in 42 in that span. He has also walked 39 times after the All-Star Break and has an incredible .535 on base percentage since then. In his last three full seasons, Votto is the only player in the league to finish in the top three in on base percentage each year. His lifetime on base percentage of .425 is 12th all time, ranking near Jimmie Foxx (.428) and Mickey Mantle (.420).
D.J. LeMahieu, 2B, Rockies .344 AVG, 62 BB, .415 On Base %
COMPARISON- Daniel Murphy, 2B, Nationals .347 AVG, 34 BB, .392 On Base %
What if I told you that you haven't heard of the player who ranks first in the MLB in batting average. No, it's not Jose Altuve.
I'm talking about D. J. Lemahieu. There is a very clear reason why he gets lost in the mix. It is because he's sandwiched in the order between Nolan Arenado and Carlos Gonzalez. Combined, the pair have 62 bombs and 208 RBI, while D. J has 9 homers.
However, LeMahieu specialty is hitting for average. He is swinging the stick at a .351 clip, ranking him first in the MLB, ahead of frontrunner for the batting title, Daniel Murphy. However, unlike Murphy, LeMahieu has a pedigree of success. Last year, he hit .301 and started at second base for the National League All-Star team. In 2014, DJ won a Gold Glove. This is the year he has put it all together and deserves your attention as he chases a batting title down the stretch.
SHORTSTOP- Francisco Lindor, Indians .315 AVG, 70 RBI, 17 SB
COMPARISON- Corey Seager, Dodgers  .319 AVG, 69 RBI, 1 SB
It is easy to get lost in a shortstop shuffle that includes Carlos Correa, Corey Seager, Xander Bogaerts and others, but Lindor deserves to be considered in the upper echelon of shortstops. While he is only 22, Lindor has posted a .315 batting average to go along with 14 homers, 70 RBI, and great defense up the middle. Francisco has also 177 hits, which means he should be able to crack the 200 mark next year. Lindor is also batting .364 in situations described by MLB.com as 'Late/Close,' so he could gain recognition by continuing that clutch hitting in the playoffs.
THIRD BASE- Adrian Beltre, Rangers  30 HR, 97 RBI, .298 AVG
COMPARISON- Josh Donaldson, Jays 34 HR, 92 RBI, .284 AVG
I'm sure many of our readers have heard of Beltre, but not so many know just how great he has been. Adrian has compiled a lifetime .286 batting average to go along with 443 HR and 2,941 hits. However, he is not a star on his way out- far from it, in fact. This year (he's 37), Beltre has 30 homers and 96 RBI, both his highest totals since 2013. With his big swing, one might think Beltre strikes out a lot. However, he only has 61 K's to go along with 45 walks this year as he carries a Texas Ranger team on his back yet again.
OUTFIELD- Christian Yelich, Marlins    91 RBI, .306 AVG, 62 BB
COMPARISON- Jay Bruce, Reds/Mets 91 RBI, .246 AVG, 40 BB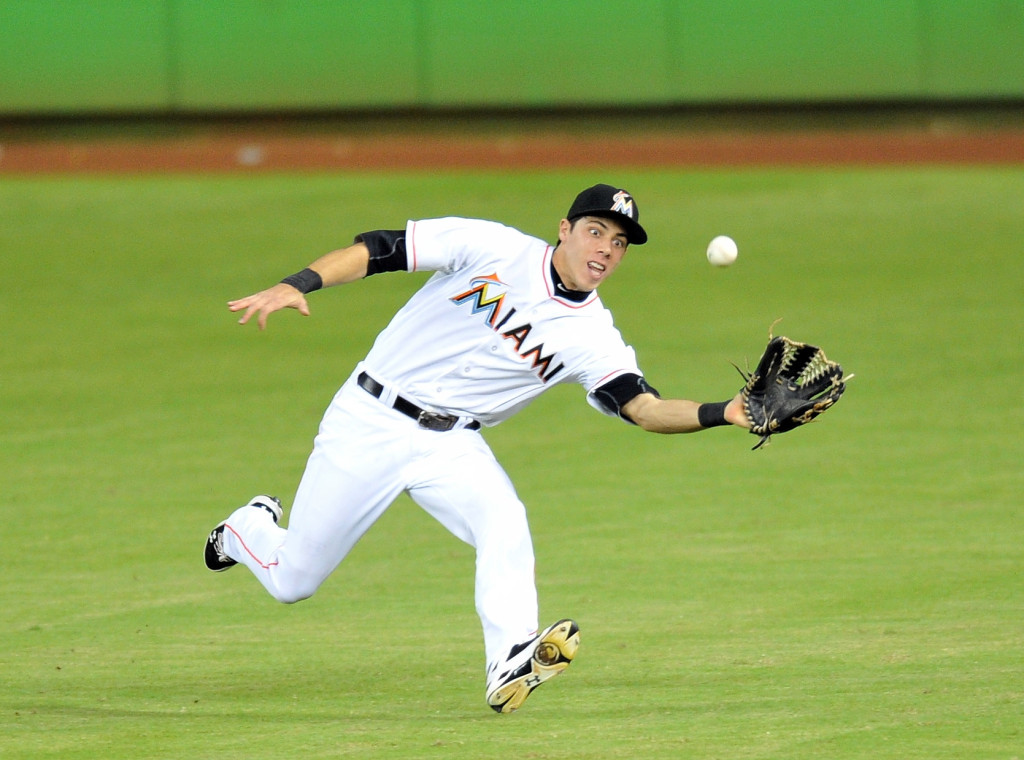 Throughout his career, Yelich has been known as an excellent hitter for average. That claim has remained true in 2016, as Christian ranks 3rd among all outfielders with 160 hits and a .306 batting average. However, he has introduced the power element to his game in 2016, totaling a career-high 18 homers this year, shattering his previous career high of 9 (set in 2014). He also has 92 RBI, which is nearly double his previous career high of 54. If Giancarlo Stanton continues to be unable to remain on the field over the course of an entire season, look for Yelich to challenge 30 HR/115 RBI next year in the middle of an underrated Marlins' offense.
PITCHER- Tanner Roark, Nationals 2.85 ERA, 29 Starts, 1.19 WHIP
COMP.- Stephen Strasburg, Nationals 3.60 ERA,  24 Starts,  1.1 WHIP
Roark has quietly been the glue holding the Nationals' rotation together. At the beginning of the year, he was used only as a spot starter thanks to the success of Max Scherzer, Gio Gonzalez, Stephen Strasburg, and the rest of the rotation. Since then, Gonzalez has become ineffective and with Strasburg injured Roark has fit the bill beautifully, posting a 2.85 ERA in 29 starts.